Keep up with the latest converter technology at the edge
COTS 3U VPX SOSA aligned coprocessor board fueled by AMD® Versal® HBM
An innovative combination of HBM (high-bandwidth memory), equally substantial DSP processing engines, high-speed 100 GigE interfaces and the Navigator® design suite means massive data throughput critical for applications in adaptable artificial intelligence and electronic warfare where low latency is required for real-time decision-making.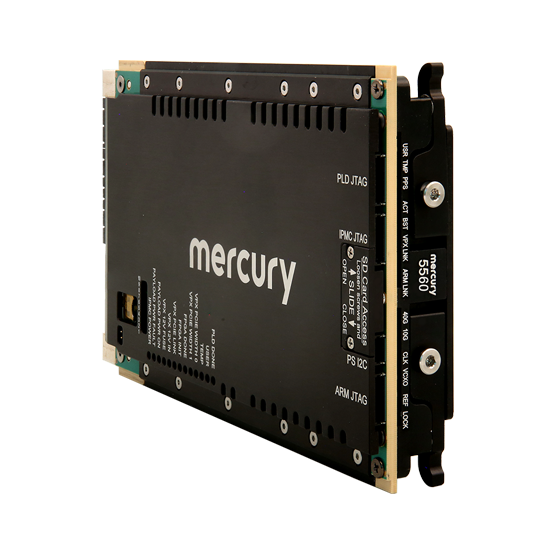 Features
AMD Versal HBM ACAP
10 GigE Interface and 40 GigE Interface
Optional VITA 67.3C optical interface for backplane gigabit serial communication
Up to 4, 100 GigE UDP interfaces
Compatible with several VITA standards including: VITA 46, VITA 48.11, VITA 67.3C and VITA 65 (OpenVPX™ System Specification)
Ruggedized and conduction-cooled
Navigator Design Suite for software and custom IP development
Expansion mezzanine interface for data converter or digital I/O boards
Specifications
Adaptive Compute Acceleration
Platform (ACAP)
Type: AMD Versal HBM VH1542
Adaptable Engines: 3,837k Logic Cells
Intelligent Engines: 7,392 DSP slices
Scalar Engines: Dual-core ARM Cortex-A72, Dual-core ARM Cortex-R5F
HBM DRAM: 16 GBytes
Total Block RAM: 89 Mb
UltraRAM: 366 Mb
ACAP IO
Interface: GPIO, 4 pairs, LVDS
Interface: 1, 10, 40 GigE
Interface: PCI-Express Gen 1, 2, 3, or 4: x4
Interface: Optical, 16 full duplex lanes,26 Gb/sec
Memory
ECCM: 64 GBytes
SDRAM: DDR4, 8 GBytes
Configuration FLASH: 2x 1 Gbit QSPI
Environmental
Operating Temp: 0° to 70° C
Storage Temp: -50° to 100° C
Relative Humidity: 0 to 95%, non-condensing
OpenVPX Compatibility
The 5560 is compatible with the VITA 65 OpenVPX Specification:SLT3-PAY-1F1U1S1S1U2F1H-14.6.11-12 module profile.
e-book
What's the Big Deal about ACAP Technology?
download now
WHITE PAPER
A Generational Leap in Edge Computing with the Versal ACAP
DOWNLOAD NOW
WHITE PAPER
Designer's Journey: Navigating the Transition to Versal ACAP
DOWNLOAD NOW
Thank you! We have received your message and will be in touch with you shortly.