Networking in the Field
Reliable connections for real-time communication
Securely enable the transmission of vital data across all network-connected communications devices on-board ground, air and sea platforms for situational awareness and real-time decisions.The IP67-sealed NanoSWITCH™ FLEX is a rugged, 10/16 port Gigabit Ethernet switch designed for space-constrained environments.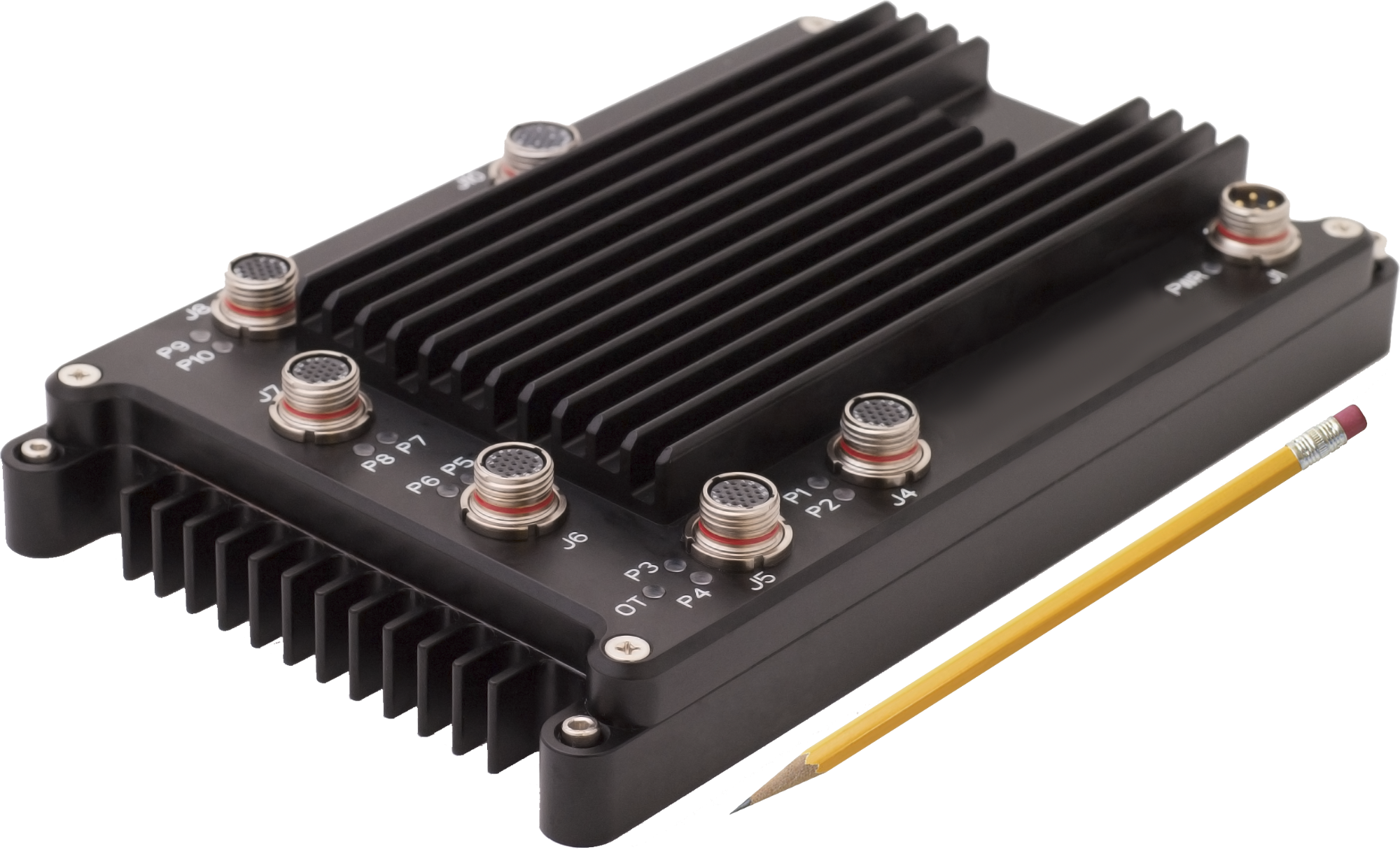 Features
Highlights
Rugged layer 2/layer 3 GigE Ethernet switch
Passively cooled 1.7"x 6"x 9.8" small form factor
Less than 3.0 lb
MIL-STD 1275E, 461F, 810G
Environmentally sealed to IP67 for water, dust, salt, fog protection
Sealed MIL connectors
Operating temperature: -40°C to 71°C
Features
Fully managed L2/L3, 16 or 10 port GigE Ethernet switch

16x or 10x tri-mode 10BASE-T/100BASE-TX/1000BASE-T

Full wire-speed non-blocking forwarding

Layer-2 wire speed switching engine and Layer-3 wire speed routing engine
Fully non-blocking wire –speed performance with all ports and all
frame sizes

QoS management enabled by advanced queuing
IPv4/v6 differentiated services (DiffServ)/DSCP traffic prioritization specifications
WEB, NSP and CLI (terminal, ssh) configuration and monitoring
802.1Q-based VLANs enabling and selective QnQ enabling
Port-level security via 802.1X authentication
4/8/16 group LAG support with protocol (LACP)
All types of storm control
Port mirroring for noninvasive monitoring of switch traffic
Auto medium-dependent interface (MDI) and MDI crossover (MDIX)
Auto negotiate/manual setting
LEDs: Power, GigE Link/Act and Speed – all blankable
Specifications
Switch Architecture
10x or 16x GigE Ethernet ports with auto tri-speed 10/100/1000 Mbps and MDIX
L2/L3 enterprise non-blocking network switch for demanding SWAP-C environments
ECC protected DRAM
Marvell Prestera®-DX PONCat3 L2/L3 hardware packet processor
Glenair 801-033 Mighty Mouse series connectors, environmentally sealed
Wire speed ingress and egress traffic policers
Dual-core ARMv7 network management controller
Management via Ethernet (http/telnet/SNMP) or RS232 (CLI) host management
Layer 2/Layer 3 Features
16K L2 forwarding entries
802.1w rapid spanning tree
802.1s spanning tree protocol
802.3ad link aggregation/LACP
4-16 LAGs
802.1Q VLANs (256-4 K VLANs)
802.1AB link layer discovery protocol
Port mirroring
Jumbo frames (10 KB)
802.3x PAUSE
Static MAC addresses
IGMPv1, 2, 3 snooping
MLDv1, 2 snooping
Power
28 V nominal isolated power input to MIL-STD-1275E
+/- 250 V transient, 100 V surge, 12 V starting surge capable
Voltage ripple filtering
28 W maximum (20-26 W Typical)
Status LED blanking control
MIL-STD-1275E compatible power supply with MIL-STD-461F EMI filtering
Environmental
MIL-STD-810G Environmental Compliance
IP67 environmentally sealed (water, dust, salt, fog)
Sealed MIL connectors
Altitude: 15,000 ft
Immersion: 1 m
Storage temperature: -50°C to 105°C
Operating temperature: -40°C to 71°C
Shock: 50 g, 25 ms half sine, all directions
Vibration: 5 G RMS 8 Hz to 2 KHz, composite wheeled, cargo jet, helicopter profiles
MIL Specification Compliance
MIL-STD-1275E - Ground vehicle power
MIL-STD-461F - EMC Army ground, Navy ground
MIL-STD-810G - Environmental
CASE STUDY
Navy CDS, Simultaneously and Securely Processing Classified Data at Sea
READ THE CASE STUDY
BLOG POST
Not just for data centers: Big data storage for faster processing at the edge
READ THE BLOG POST
SMALL FORM FACTOR SYSTEMS
Man-Wearable Computing and Switching
Best suited for on-the-go tactical operations, these small, powerful and rugged systems deliver the highest compute and networking performance in the smallest carry-on-body package.
Thank you! We have received your message and will be in touch with you shortly.