BLOG MENU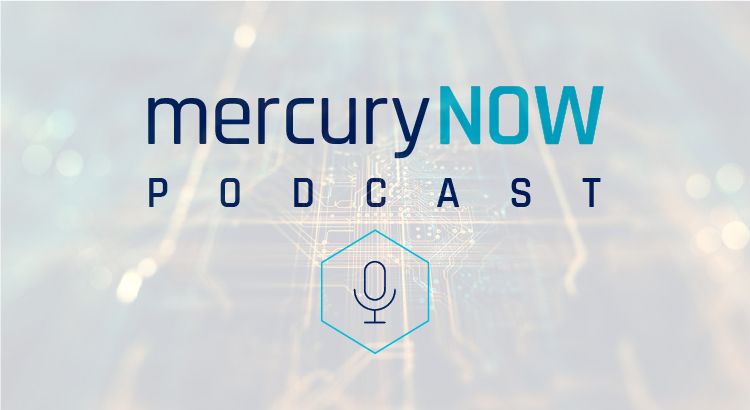 Building strategic relationships to make commercial technology profoundly more accessible
Mercury Systems
October 21, 2021
READ THE TRANSCRIPT
Ralph Guevarez:
Hello and welcome to MercuryNOW, a podcast series brought to you by Mercury Systems. I am your host, Ralph Guevarez, and today we are talking about our strategic relationships with leading technology companies. Given the rapid changes in technology, it's important that major technology industry companies maintain strategic relationships to develop complementary solutions. Mercury Systems has long recognized the advantages of these relationships and works with commercial technology leaders to deliver trusted, secure, safe, mission-critical systems for A&D applications. My guest today is Shaza Khan, Senior Principal Product Marketing Manager here at Mercury Systems. Shaza, hello and welcome to the show.
Shaza Khan:
Thank you, Ralph.
Ralph Guevarez:
Could you please give our listeners a brief background on your current role at Mercury?
Shaza Khan:
My role here as a product marketer at Mercury Systems is to make sure buyers, internal teams, and investors understand our technologies, capabilities, and products. But because Mercury products are built with open standards using commercial technologies, I not only talk to Mercury teams, but also experts from other companies, all to make sure our customers see the value of our solutions.
Ralph Guevarez:
So a lot of Mercury's products feature technologies from the commercial sector. I'm curious, why does Mercury choose to integrate other company components? Why not manufacture them internally?
Shaza Khan:
Ralph, it comes down to the speed of technology. Technology advances quickly, and innovation doesn't happen overnight or in a bubble. We recognize at Mercury that there are other companies who have established themselves as leaders in developing certain technologies. By creating strategic relationships with them, each company can innovate quickly and efficiently leveraging their own expertise. For Mercury, that means we can address the unique demands of the aerospace and defense industry. Examples being recognizatiion, miniaturization, design assurance, system security, engineering, and trusted manufacturing. The result is a far superior but affordable solution, all built with the latest innovative technology.
Ralph Guevarez:
Well thank you for your insights, Shaza. Now how long has Mercury been working with commercial technology leaders?
Shaza Khan:
We've been developing strategic relationships for more than 20 years with companies that range from small businesses to multinational global corporations. It's really exciting to work hand-in-hand with these innovative technology companies because we're able to bring that capability to aerospace and defense.
Ralph Guevarez:
Thank you, Shaza. Now could you discuss some of our primary relationships and their areas of expertise, please?
Shaza Khan:
Sure. From a hardware side, we have several. We work with Intel, a company known for their industry-leading silicon products. These include central processing units, microprocessors, systems on chips, and field-programmable gate arrays. Then there's Nvidia, the leading manufacturer of high-end graphic processing units, or GPUs, Micron, who makes computer memory and data storage semiconductors, and Xilinx, inventor of the SPGA, programmable SoCs, and now the ACAP. From the software side, we collaborate with Wind River, LynxOS, Green Hills, Linux, and other companies who offer safety certifiable real time operating systems, and then there are several research and engineering companies who assist us with our cybersecurity needs.
Ralph Guevarez:
Thank you, Shaza. Now what's the advantage of working with these specific companies, please?
Shaza Khan:
At Mercury, we're dedicated to delivering leading-edge technology quickly and affordably with shorter lead times to our customers. The U.S. has some of the most innovative companies in the world, and Mercury is able to channel their technologies to the aerospace and defense industry much sooner. By leveraging resources across companies, we're able to solve complex technology problems faster, develop products that are easily upgraded, and support customer success.
Ralph Guevarez:
Thanks for that, Shaza. Now doesn't strategic relationship mean it's a two-way street? What does Mercury bring to the other party, please?
Shaza Khan:
Well, Mercury is an industry expert with a broad product and capability portfolio. We help these companies understand the aerospace and defense market and integrate their technologies into deployable solutions. For example, in a recent podcast we talked about how Mercury helped Intel understand and meet safety requirements for the avionics and UAM market. To do this, our engineering teams collaborate to design sustainable solutions, lengthen product life cycles, and align technology roadmaps.
Ralph Guevarez:
What exactly does that mean, aligning your technology roadmaps, please?
Shaza Khan:
We have an insider's view on upcoming commercial technology roadmaps that aren't public knowledge. This allows us to begin investing R&D dollars in engineering sooner, thus reducing time to market. Additionally, we're able to advise customers on upcoming solutions based on the deployment schedules, so that they have the latest and greatest solutions always.
Ralph Guevarez:
Thank you, Shaza. Now could you highlight some products and technologies Mercury is releasing through these specific relationships?
Shaza Khan:
Sure, Ralph. Working with Intel, we launched the first certifiable Intel Core i7 single board computer with the latest Gen11 processor. Our newest generation of rugged servers support the most advanced Nvidia data center GPUs, and we just recently announced a new SOSA-aligned rugged board featuring the latest Xilinx ACAP. These are just some examples of new products. There are so many more on the horizon.
Ralph Guevarez:
With all the breakthrough technology and innovative products being introduced into the industry, it certainly seems like an exciting time for Mercury to collaborate with commercial technology leaders. Thank you, Shaza, for your time today. I'm sure everyone is looking forward to Mercury delivering what's next now. Thank you again for joining me.
Shaza Khan:
Thank you so much, Ralph.
Ralph Guevarez:
This has been another edition of MercuryNOW, a podcast series brought to you by Mercury Systems. I am your host, Ralph Guevarez, signing off.