BLOG MENU

Culture and Values: More than Wall Décor
Leadership Team
September 10, 2018
If I knew 10 years ago, the power of an engaged workforce and a living, breathing culture and set of values to influence the success of an organization, I'd have prioritized them above all else back then.
In recent years, I have worked with my leadership team and employees across the board, to define Mercury's culture and core values and subsequently, to bring them to life, make them more than just wall decor. We've simplified them, and in return made them more achievable and more meaningful. We have woven them into the fabric of our business through our commitment to lifelong learning, employee engagement and baking them into our strategic operating plan. But we could not stop there. We've also made them measurable by aligning them to our personal contributions in our quarterly performance evaluations and by asking employees to rate the organization against them in a recent culture survey.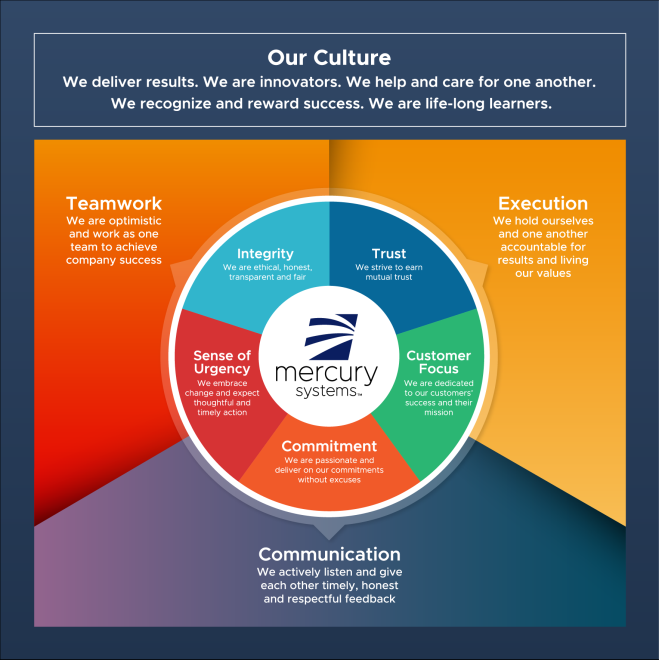 The success of any organization is wholly dependent on its workforce. Employees are quite literally the lifeblood of a business and I've learned that their loyalty to it goes beyond their paycheck. Benefits and pay certainly matter, but it is those employees who know they are valued by their employer, who feel they are heard and that they are contributing to something bigger – through their work or participation in corporate citizenship – who accelerate its success. Today, job seekers are much more discerning, much earlier on in their job searches. Sites like Glassdoor are making it easier than ever for potential candidates to see what it's like to work at a company without having to step foot inside.
On Glassdoor, Mercury is the highest rated employer overall in the defense space as reported in this analysis done by Byron Callan, Analyst from Capital Alpha Partners. It's become clear over the last three years that Glassdoor is the defacto barometer for job seekers who are weighing potential employers. Glassdoor is also an additional resource for employers to learn about what's working for their most valuable asset and what needs work. What I hadn't anticipated when I began investing time and effort into Mercury's presence on it is its influence on our current and prospective customer and investor communities. I quickly learned that customers and investors use Glassdoor as a resource for qualitative research to see what it's really like at a company and determine whether it is worth their business and/or investment.
In our most recent companywide culture survey, employees rated Mercury above the industry averages in nearly every category. Even the percentage of the workforce that participated (80%) was above average. The results of our internal survey aligned to the data on Glassdoor, which represents about 16% of our employee base and we've seen the impact. We have a more engaged, collaborative workforce and we're seeing an increase in strategic partnerships across the matrix. Employees are partnering to redefine and streamline processes and systems, and there is more transparency and communication at all levels of the organization.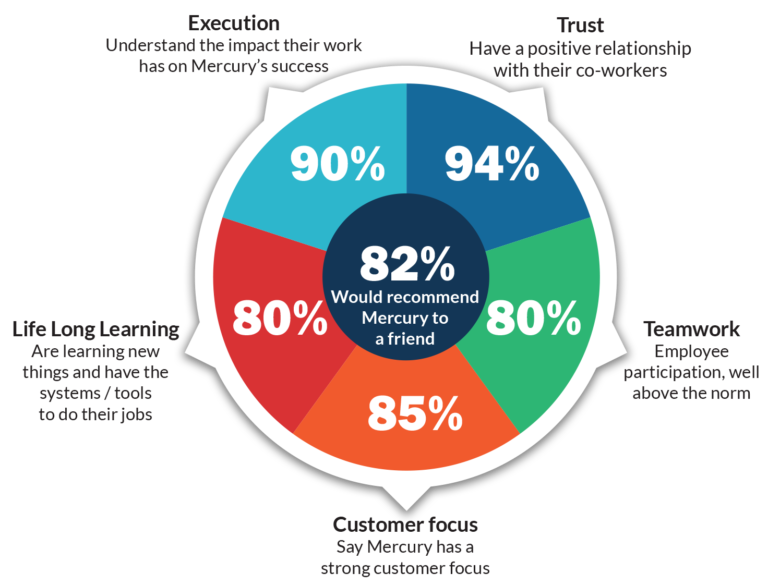 We are not perfect, there is work to do, but I'm more confident than ever that our commitment to culture and values has and will continue to be one of the best business decisions we've ever made. -Mark Aslett, President & CEO