BLOG MENU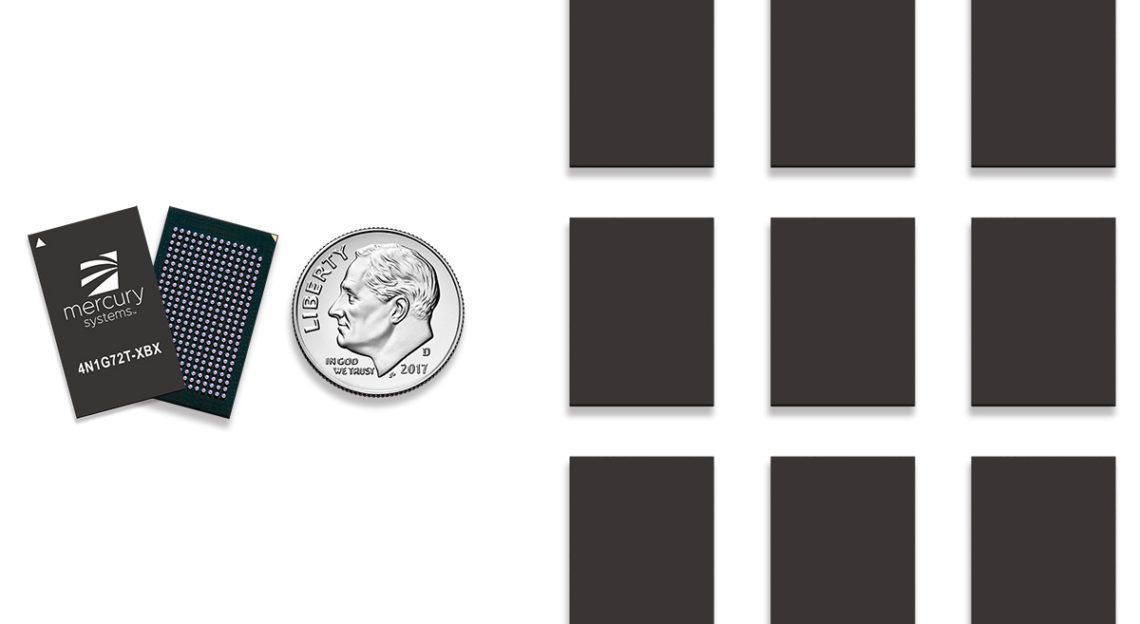 Don't believe what they say… Size DOES matter!
Jennifer Keenan
September 20, 2018
Don't believe what they say…Size DOES Matter!
In this case the smaller the better - especially in the constrained spaces of an aircraft cockpit or an unmanned vehicle where every inch is precious real estate needed for additional functionality, including massive amounts of sensor processing. These applications require the latest field-programmable gate array (FPGAs), graphics processing units (GPUs), and Intel Xeon processors with the support of high-speed dense memory to ensure peak performance with extremely low latency for mission success.
Yesterday, Mercury Systems announced the first volume production shipment of our 8GB DDR4 SDRAM memory device. The shipment of DDR4 memory initially might not sound very significant or noteworthy, but when you understand the uniqueness of our devices, you may change your mind. Mercury's DDR4 devices provide three distinct characteristics not inherent in competitive products; (1) size, weight and power (SWaP), (2) ruggedization (3) trust.
SWaP for Military Embedded Systems
Mercury's two-decade long heritage in miniaturization and three-dimensional (3D) packaging expertise has transformed commercial memory technologies into dense, ultra-SWaP optimized devices for the most demanding forward deployed military applications. As illustrated in the picture above, our die stacking capabilities produce the highest density, lowest-profile one chip solution that takes the place of nine competitive devices, freeing up valuable front-side board real estate.
When coupled with the extreme environmental operating range of our devices, the size makes them ideal for avionics, unmanned systems, portable systems and missiles and munitions applications where space is extremely limited. Though restricted by space, these applications utilize leading edge processing technology that our DDR4 devices support with unfailing high-speed data transfer rates of up to 2666 MB/s, reducing overall latency.
Ruggedization for Extreme Environments
The size of our high-density DDR4 devices are impressive. When you add our capability to design and manufacture devices that maintain signal integrity and consistently perform high data transfer rates over the extreme military temperatures of -55 to +125 °C, it makes them extraordinary.
Not only do military systems need to operate reliably at extreme temperatures, they require reliability when exposed to chemicals, moisture and shock and vibration. To eliminate possible failures caused by these non-commercial conditions, our devices are military-hardened through full encapsulation and use of lead solder balls.
Trust for Security and Continuity of Supply
In a previous post on our secure solid-state drives (SSDs), I detailed our trusted design and manufacturing capabilities. The value of this trust is not a trivial point to make, as Mercury owns and operates two of the only seventy-five worldwide Defense Microelectronics Activity (DMEA) accredited facilities.
These facilities, which include our Phoenix Advanced Microelectronics Center (AMC), are qualified for design, packaging, test and broker services and incorporate strict supply chain control, thoroughly vetted employees and an active cyber security infrastructure. We source all of our critical memory components from carefully selected supply chain partners with manufacturing sites located within the United States to ensure long-term continuity of supply.
All memory devices are not alike. When selecting a partner for military embedded systems, it is important to know the facts about performance in processing-intense, SWaP-constrained, rugged environments. For mission critical applications, a trusted partner is vital to success. To learn more about Mercury's military-grade secure DDR4 devices, download our tech brief or contact our application experts to help solve your design challenges at secure.memory@mrcy.com.