BLOG MENU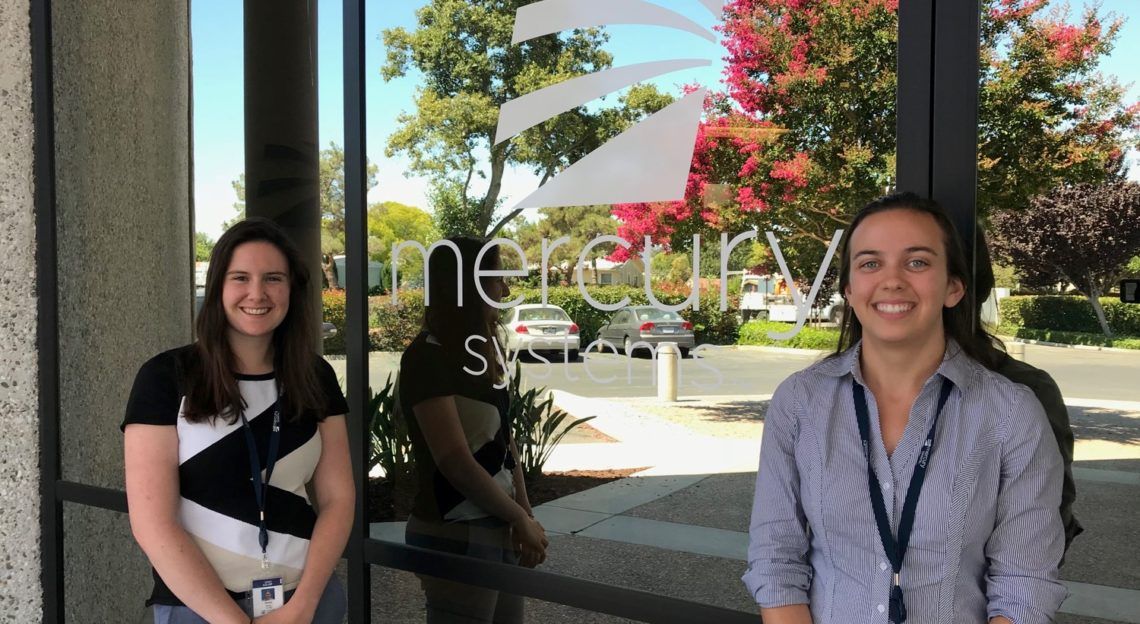 The Next Generation of RF Engineers
Mario LaMarche
August 29, 2018
Along with the warm weather and long days, summer means a new group of co-ops. Here at Mercury Systems, where innovation drives each subsequent generation of new products, we depend on our high-performing engineering teams, and one critical element behind developing these teams is our co-op program.
When it comes to RF, there is so much theory to learn in school that there is often less opportunity to apply that theory to specific RF/microwave design challenges. Spending a summer working through actual designs and troubleshooting in the lab kicks off the process of developing the intuition and experience critical to becoming a successful engineer. At Mercury we take that one step further by putting co-ops to work on real projects where their contributions make a measurable impact on the final product.
Here in the San Jose, CA office, we have been adding new members to the engineering team including two co-ops for the summer. Emma Westerhoff and Annie Kroo, both about to start their junior year at Olin College in Massachusetts, have spent the last few months working on new designs—including preliminary device cascades, non-linear modeling and troubleshooting in the lab. I sat down with them to talk about their experiences working for Mercury as engineering co-ops.
"Everyone is helpful and happy to have us as part of the group—it feels like a family."
The process first started in Mercury's Hudson, NH office with an interview and a facility tour. From their first interactions with executive management and engineering leadership, Emma and Annie were immersed in the fast-paced environment of Mercury Systems. Through mentoring and involvement in complex projects, they not only gained RF design experience but with their fresh perspective also provided a new approach to the many technical challenges.
This summer, Emma and Annie focused most of their time supporting the development of a new, small form-factor RF converter. Using a cascade calculation tool, they estimated the gain, noise figure, and output power of various circuit blocks. With the guidance of Ernesto Duran, an experienced RF engineer, they helped pick the best components and ordered evaluation kits. As the parts started to arrive, they began spending more and more time in the lab taking a variety of measurements including S-parameters, IP3, P1dB and noise figure.
Once they had the samples fully characterized, they created their own non-linear models that combined the S-parameters with the power and noise measurements. By plugging these models into a harmonic balance tool, they were able to accurately model and optimize the cascade. When their work setting up a frequency plan showed that filters would be required, they designed coupled bandpass filters, which they modeled and optimized with an EM solver to achieve an extremely compact footprint. As the product started coming together, they attended a design review with the customer where they had the opportunity to present some of their work.
Despite their having completed just two years of college coursework, Emma and Annie were always treated as engineering peers. Through their hard work and the mentoring they received, they were able to contribute as true members of an engineering development team.
At Mercury we believe that creating innovative products requires innovative teams. From the earliest phases of their careers, engineers must be challenged, mentored and given the opportunity for continued education. Since even the most experienced engineers can't be experts in all fields, Mercury fosters a culture of respectful collaboration. To set the groundwork for these teams, Mercury's co-op program takes some of the brightest young minds and gives them the opportunity to make meaningful contributions while also developing the skills to be successful.
As the summer comes to a close, we'll miss having Emma and Annie in the office, but are impressed by the many contributions they made in such a short time. While we hope they will consider a career with Mercury in the future, we are confident that they will be successful regardless.
To learn how you can join this world-class engineering team, take a look at our RF engineering page. Enjoy the video below to get an inside look at the RF engineering co-ops' experience at Mercury this summer: