On-orbit data storage, commercially available
Preserve up to 4.5 TB of data in radioactive environments
The RH304T solid-state data recorder (SSDR) enables immense storage capacity, high performance and long-term data integrity for applications with the potential for radiation exposure in space and on the ground, such as LEO satellites, high-altitude aircraft, airborne weapons and mission-critical ground computing systems. The RH304T utilizes enhanced error correction with a unique two-pass correction scheme and the latest generation 3D NAND in SLC mode, ensuring the highest possible reliability.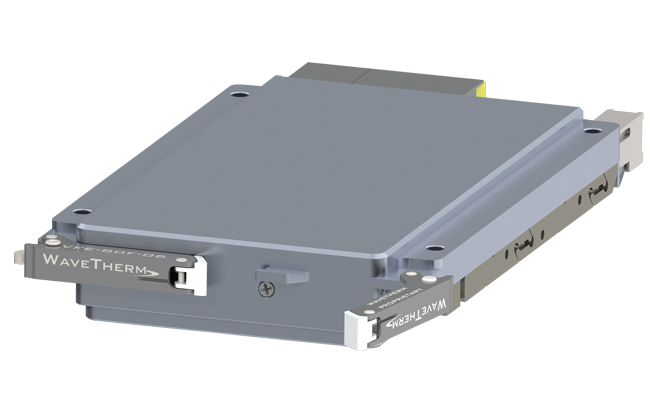 Features
4.5 TB large geometry, industrial-grade SLC NAND flash memory
Dual-host (2 hosts with 4-Lanes each) and dual-port (1 host with 8-Lanes)
All components radiation tolerant by design (except NAND) at > 100 krad
Two-pass error correction with proprietary horizontal Reed-Solomon and TLC bit sweep algorithms
Designed for fault tolerance with multiple failed NAND flash devices
VITA 78 3U SpaceVPX compatible, P2 unpopulated
Ruggedized construction and assembly
Specifications
SRIO interface running at 3.125 Gbps
Dual-port reads/writes 16 Gbps
Dual-host writes 9.2 Gbps, reads 8 Gbps
Radiation Tolerance
Total ionizing dose (TID) > 100 krad (all components except NAND)
TLC NAND in SLC mode. SEE/TID testing in progress; 25 krad TID expected
RTG-4-based NAND processor and controller
Configuration upsets immunity to LET > 103 MeV.cm2/mg
Single-event latch-up (SEL) immunity to LET > 103 MeV.cm²/mg
Registers SEU rate < 10–12 errors/ bit-day (GEO solar min)
Single-event transient (SET) upset rate < 10–8 errors/bit-day (GEO solar min)
TID > 100 krad
Applications
LEO satellites
Nuclear industry
Medical industry
High-altitude aircraft
Airborne weapons
Mission-critical ground computing subsystems
Missile launch vehicles
Scientific missions
CASE STUDY
Mercury Supplies Solid-State Data Recorders For NASA'S JPL Emit Science Mission
READ THE CASE STUDY
PRESS RELEASE
Mercury's solid-state data recorders headed to International Space Station
VISIT THE NEWSROOM
OPTIONAL. RELATED PRODUCTS
Thank you! We have received your message and will be in touch with you shortly.