BLOG MENU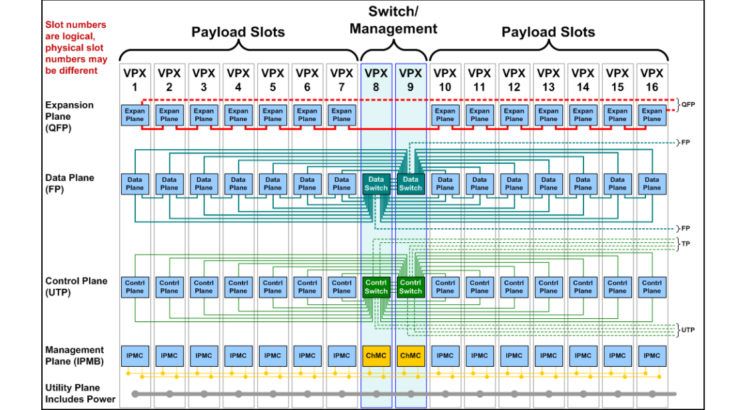 Supported Switched/Mesh Fabrics by Mercury Systems - Part 1
Kevin O'Malley
August 24, 2018
The SMP Engineering group at Mercury Systems has worked tirelessly on development and innovation to offer our customers multiple choices for their present and future needs. Since authoring the OpenVPX™ (VITA 65) standard, it has opened the door to customers seeking answers and/or solutions to many of the issues they encounter when designing their systems. First, let's take a look at what OpenVPX offers us.
OpenVPX builds on the module-centric VPX specifications by providing a nomenclature of planes and profiles to enable system integrators, module designers, and backplane providers to effectively describe and define aspects and characteristics of a system. OpenVPX addresses major system interoperability issues while allowing for flexibility within the system, as enabled by its planes and flexible module profiles featuring user-defined I/O. By following a system-centric approach and defining a number of standard system topologies, OpenVPX enables interoperable off-the-shelf modules and development platforms within the VPX marketplace. The standard has provisions for both 6U and 3U platforms, and high speed serial switched fabric technologies such as PCIE, RapidIO, Infiniband, 10 Gigabit and 40 Gigabit Ethernet.
OpenVPX profiles make it easy to build development systems with compatible components. Deployable systems will always have system issues that need to be addressed, such as I/O, custom backplanes, power, and cooling. SMP engineers not only understand these issues, we have also solved both integration and system-level problems and delivered integrated system solutions to our customers.
OpenVPX Benefits
Promotes interoperability and vendor choice
Provides specific design profiles that vendors can design to and integrators can specify as requirements
Reduces integration issues resulting in faster development & deployment time
Higher board volumes --> Economies of scale
Industry leading bandwidth and density
Higher velocity of technology upgrades
Will support higher backplane signaling speeds as technology matures
Now let's look at the switched fabrics and their supported backplane topologies with OpenVPX platforms.
Types of Backplane Topologies
Centralized switching
A set of peer payload boards connected by switch fabric boards
Single or dual star topology for multiple path routing and potential redundancy
Provides system management function
Mesh Fabric
A set of peer payload cards connected in a full or partial mesh
Useful for small slot count systems as it avoids dedicated switch slots
Larger slot count systems require switching logic on each payload card
Host / slave
Typically comprise a master host board with several slave boards linked by PCIe
Allows an SBC to have greatly expanded capabilities without complexity of a general switching fabric
Planes and Profiles
Planes: Multiple levels of communication; Bottom to top
Utility Plane - Power pins and various utility signals

NVMRO (Non-Volatile Memory Read Only)
SYS_CLK (System Clock), REF_CLK (Reference Clock), AUX_CLK (Auxiliary Clock)
SYSRESET (System reset, including "maskable reset"), POWER

Management Plane (mp)

Low-power
Defined by VITA 46.0 and 46.11
Prognosticates/diagnoses problems
Can control module power
IPMC

Control Plane (cp)

Reliable, packet-based communication that carries information necessary to establish and control the network
Application control, exploitation data
Typically Gigabit Ethernet or less

Data Plane (dp)

High-throughput, predictable data movement without interfering with other traffic
Examples: Serial RapidIO, PCI Express, CX3(Connect-3), Infiniband, Ethernet: 10GB or 40GB, Infiniband: 56 GB

Expansion Plane (ep)

Tightly coupled groups of boards and I/O
Typically VME bridging or PCI Express
Profiles: Three types
Slot Profile

A physical mapping of ports onto a slot's backplane connectors
Uses notions of pipes and planes:

The term "pipe" is used to define the number of bidirectional differential serial pairs that are grouped together to form a logical data channel.

Does not specify actual protocols conveyed over the backplane

Backplane Profile

A physical specification of a backplane
Specifies the number and type of slot profiles
Defines the topology of channels and buses that interconnect the slots

Module Profile

Extends a slot profile by mapping protocols to a module's ports
Includes thermal, power and mechanical requirements
Provides a first order check of compatibility between modules
Next time we will dive deeper into what capabilities are available, how the systems can match your needs, and where Mercury Systems can assist its customers.