Data Center in a Briefcase
A tactical cloud that can host sensitive missions in theater and operate on almost any power source, the RESmini XR6 packages a single Intel® Xeon® scalable processor socket with up to 28 cores in a 15lb subrack form factor. An optional FAA-compliant UPS power case provides over 100min of autonomous operation, while expansion slots and multiple I/O offer operators maximum configuration versatility for current and future operations.
DOWNLOAD RESMINI XR6 DATASHEET
Thank you! We have received your configurator form request and will be in touch with you shortly.
Features
Single Intel® Xeon® Scalable Processor with up to 28 cores
Up to 384GB GB DDR4 ECC and 240TB Storage
Up to 2 PCIe 3.0 slots
MIL-STD: 810G, 901D, 167-1
FAA Compliant UPS Power Case Option
Specifications
Single Intel® Xeon® Scalable Bronze, Silver, Gold or Platinum CPU with up to 28 cores
Up to 384GB DDR4 ECC Memory
Management and Operating System
Windows®, Linux®, VMware® and other hypervisors
IPMI v2.0, Redfish option available
Expansion & Modular Maintainability
Up to 2 low profile, half-length PCIe 3.0 cards
4 fixed fans
Input/Output Versatility
Front Access
8 Removable, Hot Pluggable, 2.5" SATA/SAS3 drives
Side Access
1 Power Switch
2 10GBase-T Ethernet Ports (RJ45)
2 USB 3.0
2 USB 2.0
1 IPMI 2.0
1VGA Graphic Port
Rear Access
Single 110/220V VAC (50/60Hz, 400Hz)
Single 18-36 VDC, 32 Amps
Single 9-18 VDC, 74 Amps

Environmental & Mechanical
Environmental*
Operating
Temperature: 0°C to 50°C
Extended Temperature: -15°C to 65°C
Humidity: 8% to 95% (non-condensing)
Shock: 3 axis, 35g, 25ms
Vibration: 4.7Grms, 10Hz to 2000 Hz (SSD)
Non-Operating
Temperature: -40°C to 70°C
Humidity: 5% to 95% (non-condensing)
Mechanical
Height: 4 inches (102mm)
Width: 13.5 inches (343mm)
Depth: 11 inches (273mm)
Weight (Typical)*: 15lb (6.8kg)
* Mercury Systems designs all products to meet or exceed listed data sheet specifications. Some specifications including I/O profiles, weight, and thermal profiles are configuration dependent. Contact Mercury for information specific to your desired configuration requirements.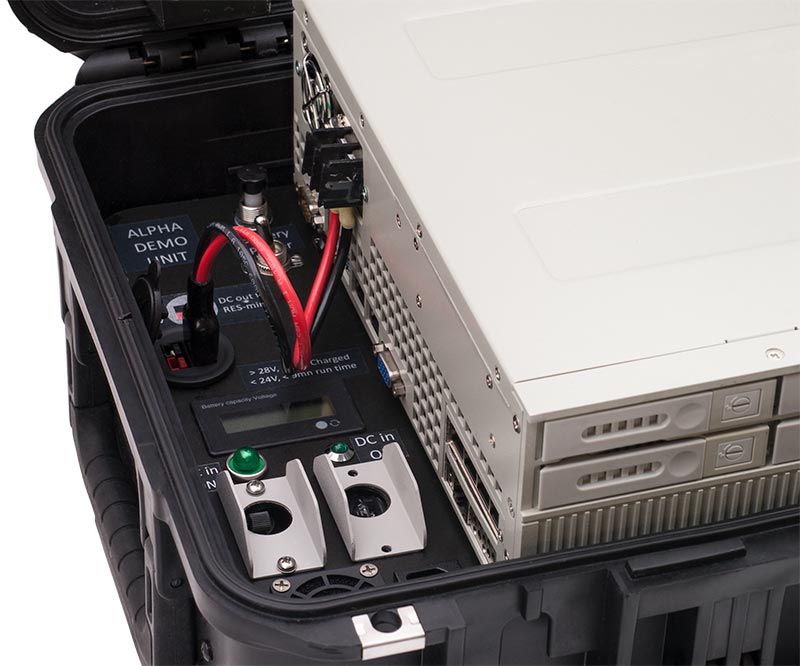 Operate Anywhere. Everywhere.
The RESmini can operate on almost any power source, including batteries, and be safely transported back home. 10GbE ports, expansion slots and multiple I/O offer operators maximum configuration versatility for current and future operations. The RESmini operates in 0°C to +50°C temperatures, with greater temperature extremes available for special configurations. Advanced thermal and mechanical design features provide superior resilience to shock, vibration, dust, sand and temperature extremes. For applications that require autonomous operation, an optional UPS Power Case can provide over 100 minutes of autonomous run-time, enabling operation in virtually any power environment.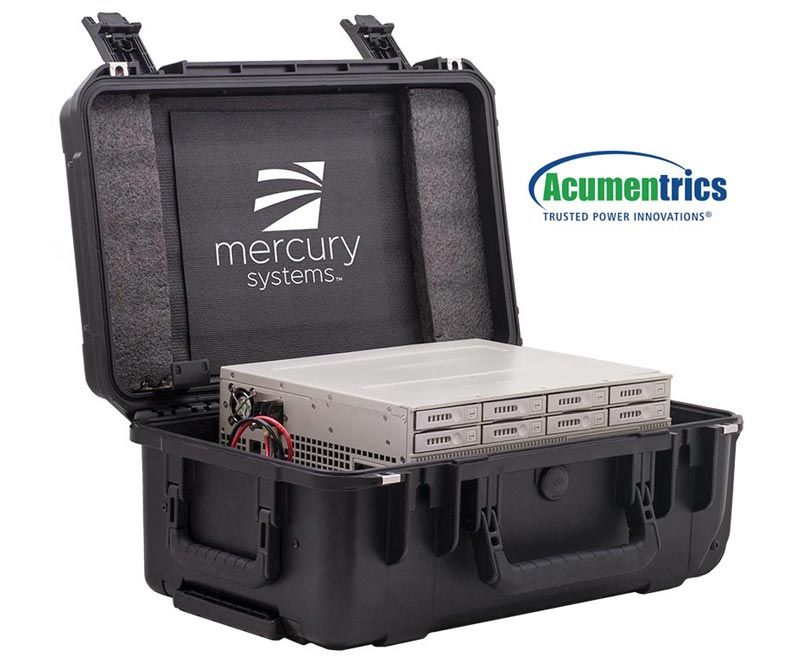 Autonomous Operation
The RESmini can be fully integrated within a FAA Carry-On Compliant UPS Power Case which provides for over two hours of independent operation without a power source. Designed by Acumentrics™ to be completely autonomous and flexible, the system automatically adjusts to the AC power on hand and can also run on a 12/28 volt DC power source commonly found on an aircraft, military vehicle or light commercial vehicle.
UN-DOT 38.3 for FAA compliance
Military Standard Specifications: MIL-STD-810G, MIL-STD 461
Application Highlight:
Streamlining Diagnoses and Treatment for Communities in Need
Processing and storing data from vital medical imaging equipment running in over 30 underdeveloped countries, our data center in a briefcase is helping RAD AID speed up diagnosis and treatment for critical illnesses such as cancer, heart disease and maternal-infant complications. Portable and powered via battery, our RESmini functions in remote locations even those that lack reliable power. With 8 storage drives, the system can save thousands of patient images, allowing radiologists to serve multiple patients at once.